USDT market cap surges, while USDC and BUSD record massive declines
Tether USD (USDT), the largest stablecoin by market capitalization, is witnessing an impressive surge in its valuation, having recently hit an 11-month-high market cap.
Meanwhile, USD Coin (USDC) and Binance USD (BUSD) have each observed record declines in their respective market capitalizations.
Notably, USDT's market cap recently crossed the $80 billion threshold for the first time since it dropped below the mark at the start of the Terra collapse in May 2022. Having begun the year with a valuation of $65.36 billion, USDT has added $14.89 billion to its market cap in 2023. The stablecoin's valuation currently stands at $80.25, an 11-month-high.
This increase indicates that investors are pumping more funds into USDT. In contrast, USDC and BUSD are witnessing massive outflows that have elicited concerns among investors. Particularly, USDC's market cap has plummeted to an 18-month low of $32.59 billion. 
Moreover, the worrisome drop in USDC's valuation gained steam at the beginning of March, with a steep decline from a high of $43.82 billion on March 4. Circle's entanglement with Silicon Valley Bank aggravated the stablecoin's woes, leading to a depeg on March 11. This compounded investors' concerns, resulting in further outflows.
BUSD has also shared a similar fate, with its market capitalization dropping to a 23-month low of $7.07 billion. Consequently, the stablecoin has been relegated to 12th on the list of largest crypto assets by valuation. BUSD's market cap has dropped since it soared to the ATH of $23.36 billion in November 2022.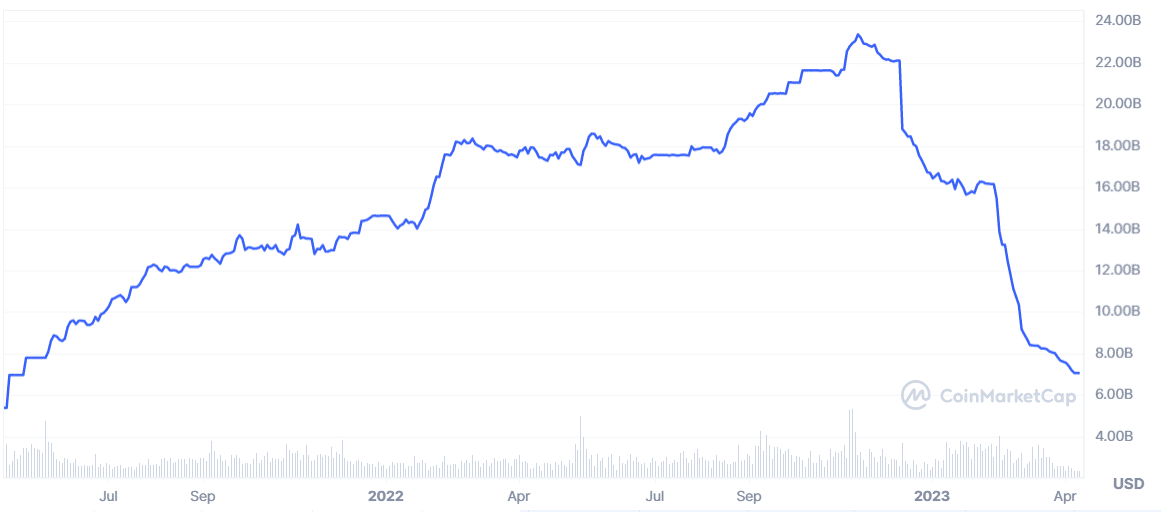 The situation with Paxos, the issuer of BUSD, contributed to BUSD's decline. Recall that Paxos disclosed two months back that it would stop minting new BUSD tokens by Feb. 21, in response to an order from the New York State Department of Financial Services (NYDFS). Paxos noted that it would discontinue its relationship with Binance. The US SEC also served a Wells Notice to Paxos for its issuance of BUSD.