Trading volumes on CEXs and DEXs surge amid market downtrend
Centralized exchanges (CEXs) and decentralized exchanges (DEXs) have observed a tremendous surge in their respective trading volumes in the past 24 hours. This trend suggests a renewal of investor interest despite a generally bearish market.
Per data from price-tracking resource CoinMarketCap, the top 8 centralized exchanges have all witnessed a remarkable rise in their 24-hour trade volume, with Coinbase, America's largest exchange and the second-largest exchange globally, registering the biggest percentage gain within the time frame.
Notably, Coinbase's volume in the past 24 hours currently stands at $1.142 billion, representing a massive 87.68% increase from the book observed yesterday. Meanwhile, Kraken, America's second-largest exchange, has witnessed a 66.40% surge in trade volume. Kraken currently boasts a 24-hour volume of $579.8 million.
Meanwhile, Seychelles-based exchange OKX is also seeing a promising increase in volume, with a trading volume of $898.3 million in the last 24 hours. This marks a 56.15% increase, making it the third biggest percentage gain. ByBit, which opened its global headquarters in Dubai last month, has witnessed a 50.33% increase in volume, leading to a 24-hour trade volume of $731.2 million.
Moreover, Bitfinex and KuCoin have seen 47.04% and 39% surges in their trade volumes. Binance, the world's largest exchange, is observing a 32.31% increase, resulting in a massive volume of $8.55 billion. UK-headquartered exchange Bitstamp is seeing the lowest percentage gain among the top 8, with a 26.58% rise.
Decentralized exchanges
While the top 8 decentralized exchanges have observed similar surges, some are witnessing trade volume declines. For instance, volumes on Kine Protocol and Uniswap V2 have plummeted by 28.31% and 6.89% in the last 24 hours.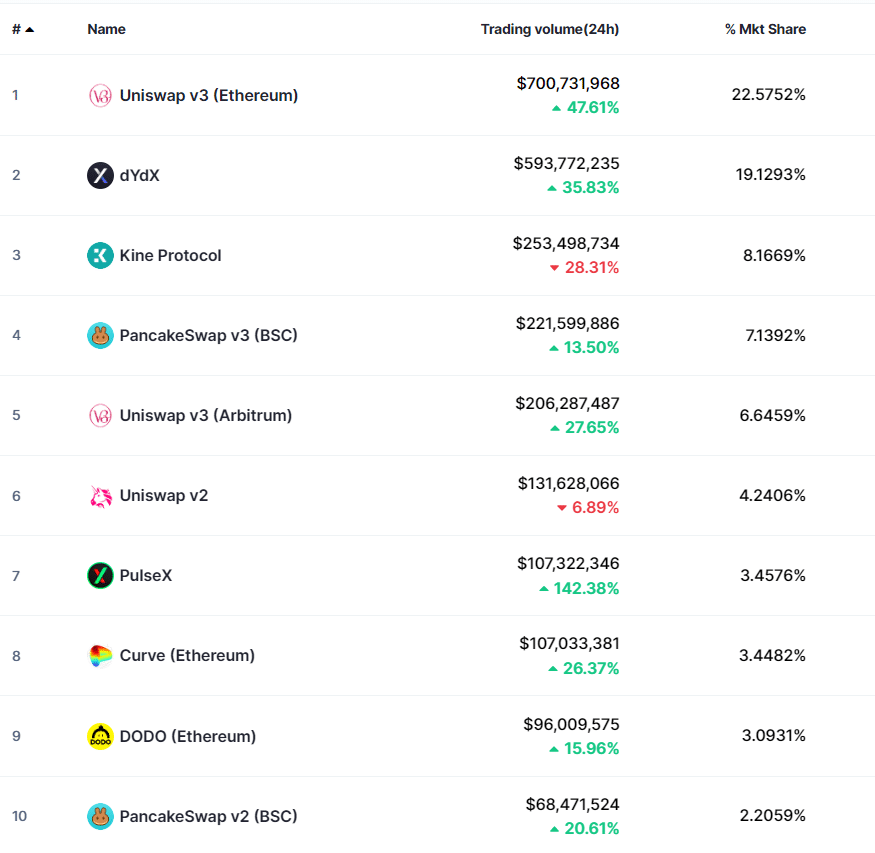 In contrast, PulseX and Uniswap V3 exchanges are in the green. PulseX has witnessed the most significant percentage increase, with a 142.38% surge. Uniswap V3 (Ethereum), the largest decentralized exchange, has seen a 47.61% increase, leading to a 24-hour volume of $700.7 million at the time of reporting.
In addition, while dYdX is seeing a 35.83% increase in volume, Uniswap V3 on the Arbitrum network has observed a 27.65% rise in volume. The Ethereum-based Curve protocol has observed a 26.73% increase in volume. Industry leaders have ascribed this surge in DEX volume to the latest meme coin craze.