Social influence and FOMO drove crypto investors in 2022
According to a recent survey by the US Financial Industry Regulatory Authority (FINRA), new investors in the crypto market were more likely to be influenced by their friends' suggestions than those venturing into the equities or bond markets.
The survey found that 31% of new cryptocurrency investors cited "friend suggestion" as their primary motivation for investing in the novel digital asset. That's compared to just 8% for first-time equities or bond investors, suggesting that there's a social element to cryptocurrency investing that's not evident in traditional markets.
The survey also found that the ability to start with small amounts was the second most popular reason for investing in crypto, at 24%, similar to equities and bond investors.
However, there was also a sense of FOMO, or fear of missing out, among investors, with around 10% of respondents indicating that the potential for a lucrative investment opportunity drove them.
The survey also showed that information about the digital asset market was most commonly sourced from friends, family, or colleagues, with 48% of crypto investors relying on these sources, compared to 35% of stock investors. Social media also played a significant role, with 25% of respondents citing it as a source of information.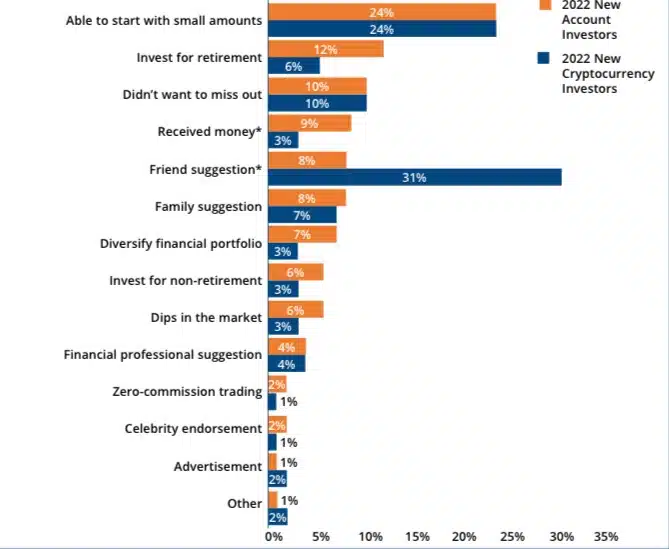 Knowledge gap among cryptocurrency investors
The survey further revealed some interesting demographic differences between crypto and stock investors. On average, newer crypto investors were younger (37 years old) and less college-educated (28.5% completed a four-year degree) compared to stock investors, who were, on average, 43 years old and had completed college degrees at a higher rate (46.3%).
Interestingly, the survey also found that many digital asset owners did not know as much about cryptocurrencies as they initially thought. In a five-item quiz about how a cryptocurrency is issued, transferred into US dollars, taxed, and how transactions may be susceptible to fraud, digital asset investors scored only 26.6%.
The survey was conducted between Sep. 9 and Sep. 29, with 465 randomly selected participants from US households. The margin of error was 6.75%, and the survey was part of a follow-up to a similar survey conducted in 2020.