Litecoin emerges as top gainer with 7.23% increase ahead of halving
According to CoinMarketCap data, litecoin is the top gainer in the last 24 hours with a 7.04% increase to $95.12.
The growing price comes in anticipation of Litecoin's third mining reward halving.
A reduction in mining rewards
CoinMarketCap's top gainer report highlights Litecoin as today's top gainer, where at the time of writing it sits at $95.12 USD, accompanied by a 24-hour trading volume of $813,650,891 USD.

Litecoin, which was designed to facilitate faster and more cost-effective transactions, currently sits at a circulating supply of 73,049,777 LTC coins and a maximum supply of 84,000,000 LTC coins.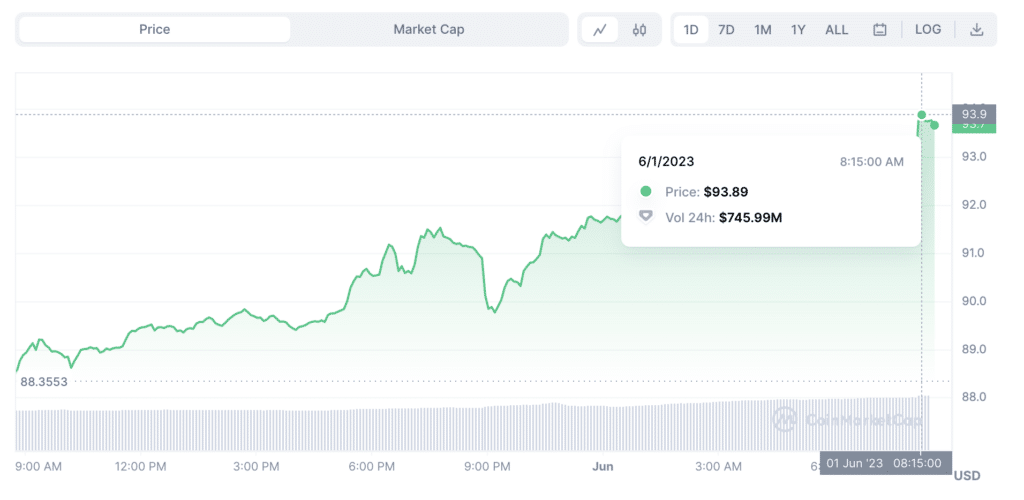 In addition to the 24 hour price action, @IntoTheBlock also commented on litecoin's performance in the past month in a tweet sent out on May 30. In this tweet, the post highlights the almost all-time high in addresses with a balance (7.09 million).
According to the crypto-analytic platform Santiment, the sustained growth in on-chain volume could serve as an indication that significant players in the market are starting to enter the scene with their litecoin (LTC) investments, in preparation of the upcoming halving event.
At block 2,140,000, litecoin miners will see the mining reward undergo a reduction from 12.5 LTC to 6.25 LTC.
Drawing from historical patterns, this anticipated event suggests a potential scenario of decreased supply coupled with heightened demand, following the logic of market dynamics.
In a post that went out on May 22, Santiment shares,
"The LTC20 halving coming up on August 10th will be a significant event for the Litecoin network. Most experts expect the event to have a positive impact on the price of Litecoin, and we would be included in this belief."
Understanding the pre-halving uptrend
Similar to the observed price surges during each of bitcoin's halving events, including the most recent one in 2020, it is possible that litecoin will exhibit a comparable pre-halving upward trend.
Looking at history of bitcoin, the first official halving resulted in a pump that began nearly one year before the halving, resulting in a 341.9% increase in price, and a 112.9% increase in the second.
Although, it may be too early to say, today's recent price action suggests that the coin is trending as expected based on halving historics.