Lido TVL hits 10-month high as LDO ranks among top gainers
Lido, a leading multi-chain crypto staking solution, is witnessing an impressive surge in its total value locked (TVL), as its value recently skyrocketed to a 10-month high of $11.5 billion.
Meanwhile, Lido DAO (LDO), its native token, is up 10% in the past 24 hours, making it the highest gainer among the top 50 crypto assets.
The last time Lido's TVL saw this height was before the Terra collapse in May 2022. In addition to the cascading effect on the broader crypto market, Terra's implosion had an additional impact on Lido's TVL as the staking solution is also domiciled on the Terra network. The fiasco brought Lido's TVL to a low of $4.69 billion in June 2022.
The platform's TVL has struggled to recover since then, and Ethereum's transition to proof-of-stake last September helped in this journey to recovery. Lido's value started witnessing a gradual uptick in January, surging from $6.18 billion on Jan. 5 to its current value of $11.5 billion. This marks an 86% increase this year.
Lido's value has also increased by 26.21% in the past month. With a dominance of 22.40% of the total DeFi scene, Lido's growth has also triggered an increase in the aggregate TVL of the DeFi sector, which has surged by 3% in the past 24 hours to a value of $51.32 billion at the time of writing.

Market watchers have ascribed this rapid growth in Lido's TVL to the surge in staked ethereum (ETH), as the Shanghai upgrade edges closer. As disclosed by Lido in a tweet this month, the ratio of staked has surged to 15% of the total ETH supply.
This metric is crucial to Lido's value because over 30% of all staked ETH are deposited through Lido, per data from Dune Analytics. Moreover, on-chain analyst Patrick revealed that liquid staking services now account for $16.23 billion of all DeFi deposits as of this month.
Lido DAO token rallies by 12%
In addition to the surge in Lido's TVL, the protocol's native token has registered impressive gains. LDO is witnessing a 10.42% gain in the past 24 hours, making it the biggest gainer among the top 50 assets within the time frame. The asset has also surged by 11.30% in the past week.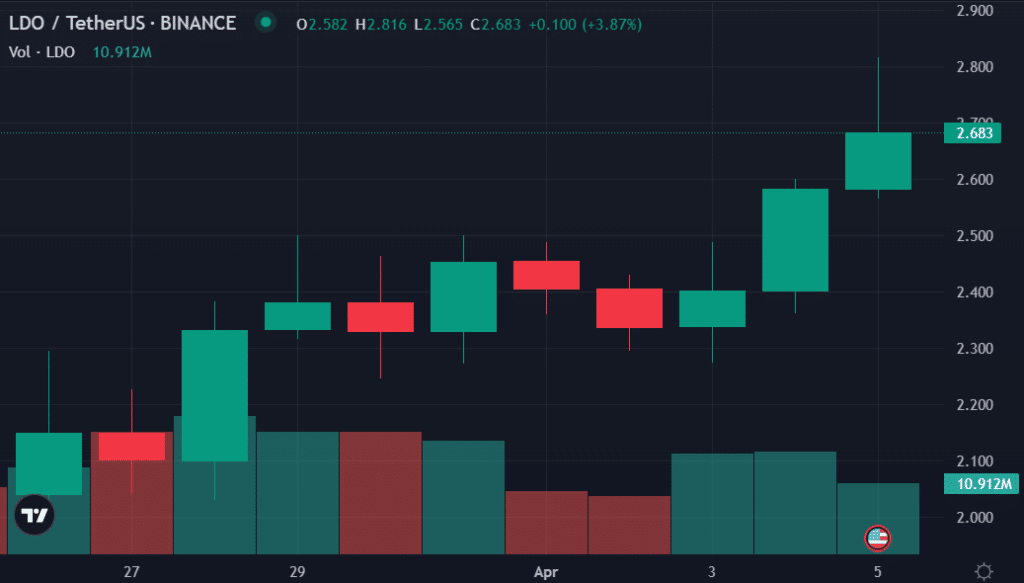 LDO rallied from $2.36 yesterday to a high of $2.8 earlier today, marking an 18% increase in less than 24 hours. The asset faced stern resistance at the $2.8 zone, but has remained above the $2.6 territory. LDO is currently trading for $2.68 at the time of writing.