Level Finance exploiter moves $1m worth of BNB to Tornado Cash
Level Finance, a BNB Smart Chain-based decentralized finance (DeFi) platform, was hacked on May 2. According to on-chain data, the hacker stole over $1m worth of BNB and is now moving the funds.
According to a tweet by the blockchain security firm Peckshield, the exploiter has just moved all the stolen funds, 3,345 BNB, to the popular crypto mixer, Tornado Cash. The assets are worth over $1.05m at the time of writing.
Level Finance previously announced that the exploiter got hold of roughly 214,000 LVL tokens, the platform's main utility asset, and swapped them for 3,345 BNB. The team announced the fix will be deployed 12 hours after the hack.
On May 10, Level Finance announced a bug bounty program of up to $1m in rewards "for critical vulnerabilities." The DeFi platform added its smart contracts on the bug bounty platform Immunefi the same day.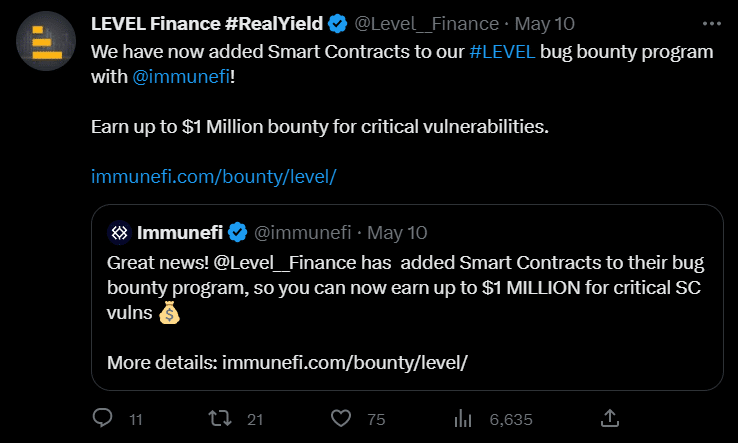 The company still hasn't announced any official plans to redeem the lost coins nor has been any progress except announcing a bug bounty program.
Level Finance also didn't respond to crypto.news' request for comment yet.
Furthermore, this is not the first hack on the BSC network.
Last month, OceanLife (OLIFE) token was also exploited on the BSC blockchain which resulted in a 100% loss in value.
In January 2022, a hacker stole $80m worth of BNB after hacking the BSC-based crypto platform Qubit Finance.