Ethereum's price rises despite facing staking withdrawals 
While the Ethereum blockchain's Shanghai upgrade, also known as the Shapella, allowed validator to withdraw their staked assets finally, the ETH price, interestingly, surged.
As the long-awaited Shanghai upgrade approached, experts expected a price dip since a considerable amount of ether was scheduled to be withdrawn. The asset's price, however, rose by 2.3% in the past 24 hours and ETH is trading at roughly $1,920 at the time of writing.
According to Wu Blockchain, stakers have pulled out 17,350 ETHs just two hours after the Shanghai upgrade while only 128 coins were deposited. Per the tweet, around 319,000 ETHs are expected to be withdrawn — roughly $563 million.
Moreover, data provided by the on-chain analytics platform, Nansen, suggests that the Kraken exchange tops the list of entities withdrawing ethereum — accounting for 75.3%, over 533,000 ETHs, of the total withdrawable coins.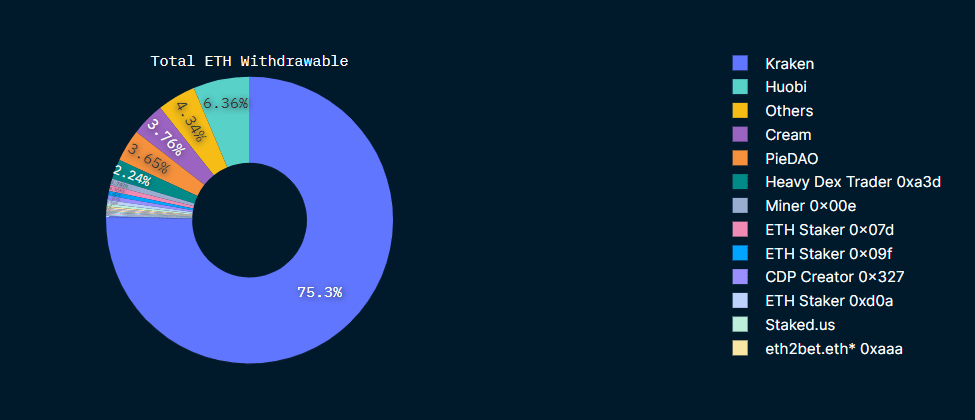 Huobi ranks second with a much lower percentage than Kraken — having around 45,000 withdrawable ETH, roughly 6.3%. Per the data, 19,633 validators are waiting to exit the second-largest blockchain, accounting for 3.46% of the total 567,207.
According to Nansen, the average price of staked ether is $1,963. In simple terms, this means that most validators could be at a loss at the current price point.