Ethereum non-zero addresses hit all-time high despite the price drop
Ethereum (ETH) is witnessing an uptick in adoption rate despite the latest market-wide slump. Its non-zero addresses recently hit an all-time high value amid a 7-day decline of 8.25% in the asset's price.
The number of non-zero addresses holding ETH climbed to 100.82 million today, marking the highest value ever witnessed. 
Information from the Glassnode chart reveals a consistent upward trajectory in non-zero ETH addresses, with only a minor decline observed in late 2021. This sustained growth persisted through the market challenges experienced in 2022, especially the turmoil caused by the Terra and FTX implosions.
Consequently, non-zero addresses have recently surged to their highest value. This metric underscores the growing interest in ethereum and crypto assets, as more market participants enter the scene despite the occasional turbulence. 
Non-zero ETH addresses are addresses holding a positive balance of ETH. In other words, they have a value of the asset greater than zero. This metric is often used to measure the level of activity and engagement within the Ethereum network, as it indicates the number of addresses currently holding some form of value.
An increase may indicate growing interest from individuals or businesses, more widespread token ownership, growing decentralized applications (dApps) and smart contract usage, or the accumulation of assets by long-term holders. All these factors contribute to the overall health and vitality of the Ethereum ecosystem.
As reported by crypto.news last week, the cumulative balance of the ten largest ethereum addresses recently hit an all-time high of 31.8 million ETH valued at $59.47 billion at the time of the report. This was due to an impressive accumulation campaign observed among these addresses, Santiment revealed.
The increase in these metrics coincides with a period of decline for ETH, prompted by the downturn in the market. Notably, on June 10, ETH experienced a decrease of 4.83% following the SEC's complaints against Binance and Coinbase. This decline represented the most significant intra-day loss for the asset in over a month.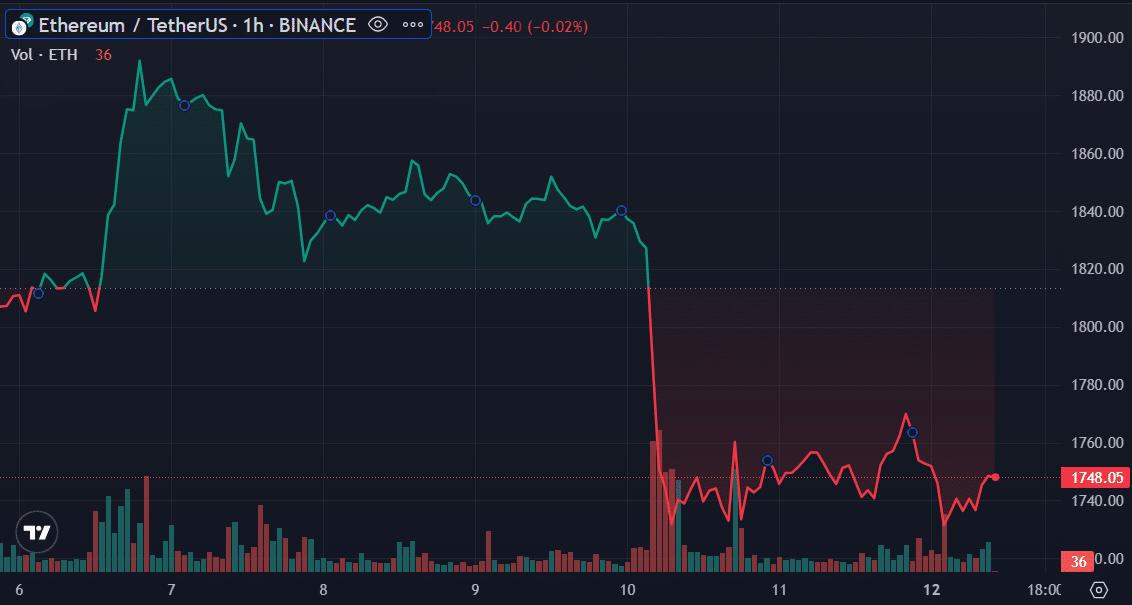 ETH registered a meager 0.07% gain on June 11 to invalidate what would have been a 3-day losing streak. However, the asset started today on a bearish note. ETH is 0.59% down today, currently changing hands at $1,742 at the time of writing.