Ethereum futures liquidations soar to 1-month high on OKX
The steep crash in crypto prices has triggered liquidations across the board, with the number of ethereum (ETH) futures contracts forcefully closed by OKX, a crypto trading platform, hitting a 1-month high, data from Glassnode, a blockchain analytics platform, on June 10 shows.
SEC's lawsuits trigger crypto selloffs
Crypto prices, including the ETH and bitcoin (BTC), are lower when writing, contributing to a surge in the number of liquidated long contracts.
According to Glassnode, Ethereum's futures contracts on OKX have substantially increased in long liquidations, reaching a one-month high of $8,022,567.66. This figure surpasses the previous one-month high of $7,269,559.02 observed a few days ago on June 5, 2023.
This spike in liquidations indicates a heightened level of selling pressure in the market, potentially amplifying the downward momentum.
State of ethereum price
The price of ethereum (ETH) has experienced a decline in recent days, indicating a shift in market sentiment. 
At the time of writing, ethereum is trading at $1,738.86, a 5.61% decrease in the last 24 hours and an 8.64% drop over the past seven days.
With a circulating supply of 120 million ETH, ethereum's market capitalization currently stands at $209,037,139,067, according to CoinGecko.
Ethereum has support at around $1,700, with resistance at $1,900.
On the weekly timeframe, the RSI value for ethereum is currently at 40. This suggests that there is no significant bias toward buying or selling, and the market may be awaiting further developments before a potential price shift.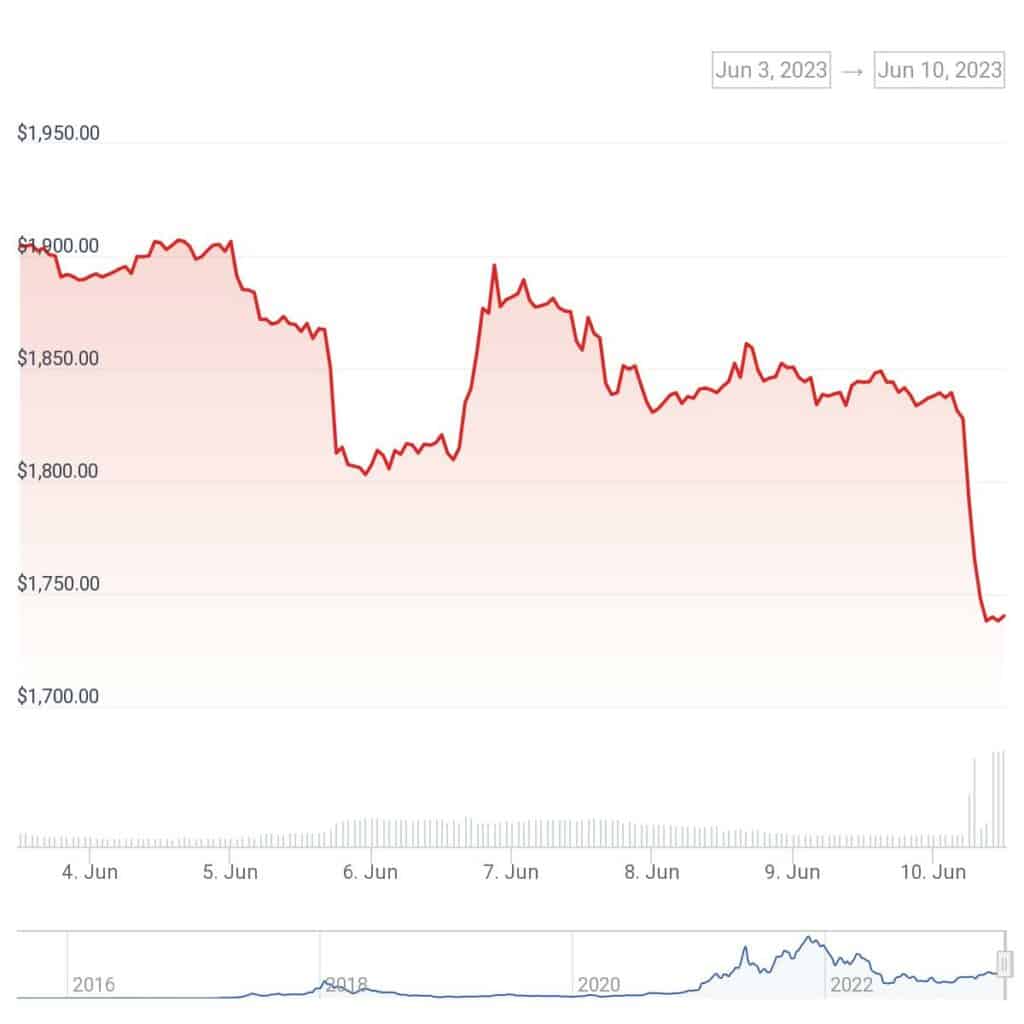 The RSI value is at 26 on the daily timeframe, reflecting a relatively lower value than the weekly timeframe. A value of 26 suggests that selling pressure may be stronger in the short term, indicating a possible oversold condition for ETH.
Multiple factors are contributing to the current market downturn, with recent lawsuits against major cryptocurrency exchanges possibly a trigger.
The Securities and Exchange Commission (SEC) recently filed lawsuits against Binance and Coinbase, two leading cryptocurrency exchanges, creating uncertainty and dampening market sentiment. 
Earlier this week, regulator listed 19 major tokens as examples of securities, including solana (SOL), polygon (MATIC), BNB, and others, when filing their lawsuits against Binance and Coinbase. Subsequently, Robinhood, a trading platform, said it plans to delist some assets, including SOL, cardano (ADA), and MATIC, that the SEC alleged are securities.
Against that backdrop, investors are becoming more cautious, leading to increased selling pressure and negative impacts on the entire crypto market.