Crypto liquidations peak as SEC's Binance lawsuit shakes crypto markets
Recent enforcement action from the SEC against Binance has sent waves through the cryptocurrency ecosystem, inducing a large volume of liquidations and creating an atmosphere of uncertainty. 
The SEC's decision to file a lawsuit against Binance and its CEO, Changpeng "CZ" Zhao, has immediately and substantially impacted the cryptocurrency market. 
As of June 6, over the past 24 hours, the market saw liquidations amounting to nearly $297 million, according to CoinGlass. The lawsuit has significantly affected bitcoin (BTC), whose price slumped by 3.75% to $25,753.71, forcing a $103 million liquidation of the asset.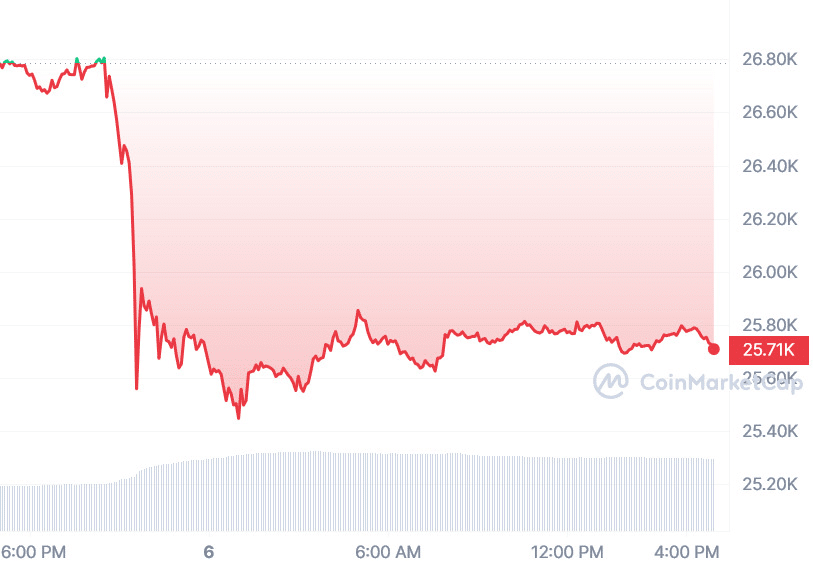 In the wake of these developments, Binance recorded liquidations amounting to $96.05 million. OKX, Bybit, BitMEX, and Huobi also featured high on the list of exchanges with large liquidations.
Altcoins in the crosshairs
The crypto market has been in flux, with altcoins experiencing the brunt of the volatility. Ethereum (ETH), the most prominent altcoin, has seen a 2.5% dip but remains relatively stable. 
Meanwhile, other altcoins like binance coin (BNB), cardano (ADA), solana (SOL), and polygon (MATIC) have faced significant losses.
BNB's decline could be linked to the recent SEC charges against Binance, increasing uncertainty around the platform's future.
Allegations against Binance, BAM Trading, and Changpeng Zhao
The SEC has leveled a wide-ranging list of accusations against Binance, BAM Trading, and Changpeng Zhao, for various purported securities law violations. 
According to the SEC's statement, the agency believes that Binance and its affiliates engaged in misleading activities and contravened several securities regulations.
Despite public assertions that such actions were prohibited, Binance and Zhao are said to have knowingly facilitated transactions for high-value US customers on the Binance platform. 
The agency further alleges that Binance and Zhao quietly wielded control over the supposedly independent platform, Binance US.
Moreover, the SEC claims Binance and Zhao were not mere custodians of customer assets, but had full control over them, leading to potential misuse. In particular, the SEC points to transactions involving Sigma Chain, an entity under Zhao's control. 
Binance is also accused of deceptive practices related to trading controls on the Binance US platform, while the agency alleges market manipulation by Sigma Chain.
In addition to these allegations, the SEC has charged Binance with unregistered offers and sales of their own crypto assets, such as BNB and BUSD, along with certain crypto-lending products. Binance's secret control over assets staked by U.S. customers in BAM's staking program is another point of contention brought up by the SEC.
In short, the SEC's lawsuit is a complex case that brings numerous accusations against Binance, BAM Trading, and Zhao, focusing on alleged securities law violations and potential investor risks. The case's resolution could have far-reaching implications for the crypto exchange landscape.
What's the future for Binance
As the world's largest crypto asset trading platform, Binance is pivotal in the global crypto industry. If the SEC's lawsuit significantly disrupts Binance's operations or market reputation, it could induce volatility in the crypto market. 
A sizable segment of crypto trades happen on Binance's platforms, and any disruption might lead to liquidity issues, price instability, or reduced investor confidence.
However, on the flip side, a positive outcome for Binance could bolster the crypto market by providing a semblance of regulatory clarity.