Bitcoin enters the unknown zone, high volatility is expected
Bitcoin (BTC) has been moving between $24,800 and $27,300 over the past two weeks when the US Securities and Exchange Commission (SEC) sued Binance and Coinbase.
BTC, the largest cryptocurrency, took two major plunges on June 5 and June 15 but gained traction over the past week. It registered a 2.7% rise in the last seven days. Bitcoin is up by 1.3% in the past 24 hours and trading at $26,790 at the time of writing.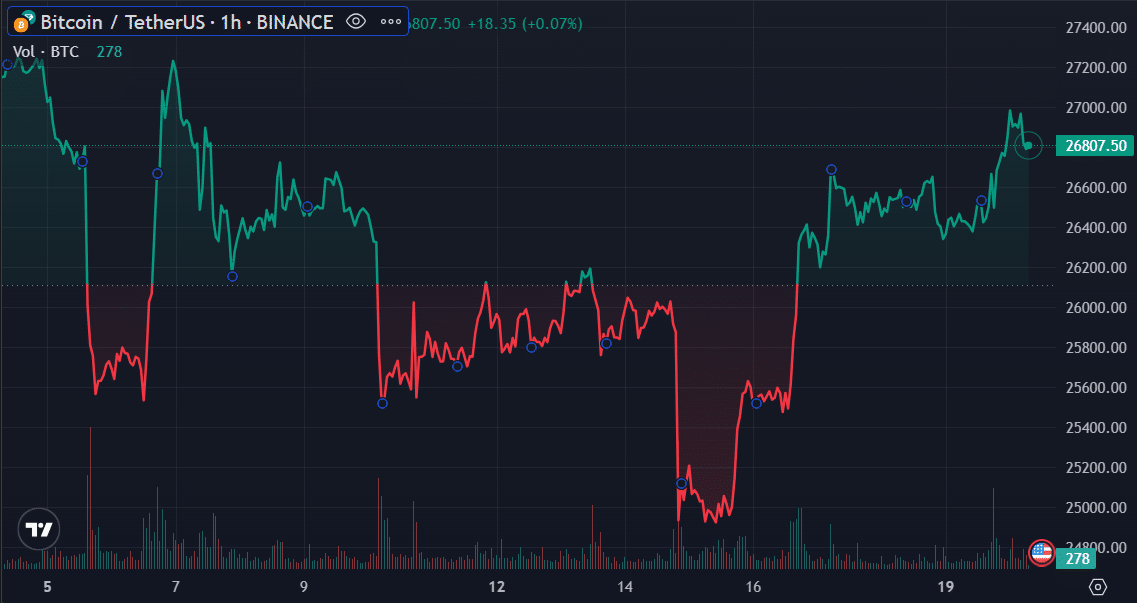 While bitcoin's price hiked, on-chain data shows that high volatility is expected as the asset's outflow from spot exchanges has risen. According to data provided by CryptoQuant, the Estimated Leverage Ratio (ELR) of BTC exploded on June 19, suggesting the expectations of high volatility.
This might show that short-term traders have been driving the bitcoin price by leveraging on the futures market. Per the data, BTC reacted almost the same on June 5 and June 15, when the flagship asset took deep dives.
Moreover, the number of bitcoin whales has also dropped significantly. According to data provided by Glassnode, the number of large BTC holders with a capital of 10,000 or more coins has dropped to only 114 unique addresses, marking a four-month low.
According to a report on June 19, both BTC and ethereum (ETH) saw a notable decline in selling pressure. In simple terms, a sharp hike in the bitcoin price is possible, similar to the moves over the past two weeks.