Bitcoin Cash leads charge as global crypto markets recover
Following a downturn that compounded investor angst, the broader crypto market has embarked on a recovery campaign, with bitcoin cash (BCH) leading the charge. This recovery is geared towards reclaiming the losses of the past week.
Notably, the global crypto market capitalization has surged by a massive 5.76% in the past 24 hours. Consequently, the market valuation currently stands at $1.13 trillion, its highest value in two weeks. The impressive gains from bitcoin (BTC) and most altcoins have catalyzed this rapid surge.
Interestingly, almost all the top 100 crypto assets are seeing observable gains over the last 24 hours. The only top 100 assets exempt from this market-wide rally are quant (QNT), pax gold (PAXG) and tether gold (XAUT). 
Meanwhile, among the top 20 assets by market cap, litecoin (LTC) is experiencing the largest percentage gain, with a 9% increase in the past 24 hours. Bitcoin is a close second, surging by 7.7% within the same timeframe. 
While assets such as wrapped bitcoin (WBTC), cardano (ADA), avalanche (AVAX) and polygon (MATIC) are seeing gains above 6%, XRP seems to be lagging, with a meager 1.7% increase. The asset has failed to hold above the psychological level at $0.50.
Conversely, bitcoin and ethereum (ETH) have towered over the much-coveted psychological levels at $28,000 and $1,800. However, ethereum's position remains delicate. Trading at $1,809, ETH could drop below the $1,800 mark in the face of a slight correction.
BCH leads the charge
The latest market-wide recovery has been primarily championed by bitcoin cash, which witnesses the most significant increase among the top 100 assets. BCH recently rallied to a two-month high of $134.40. The last time the asset saw this price was on April 18.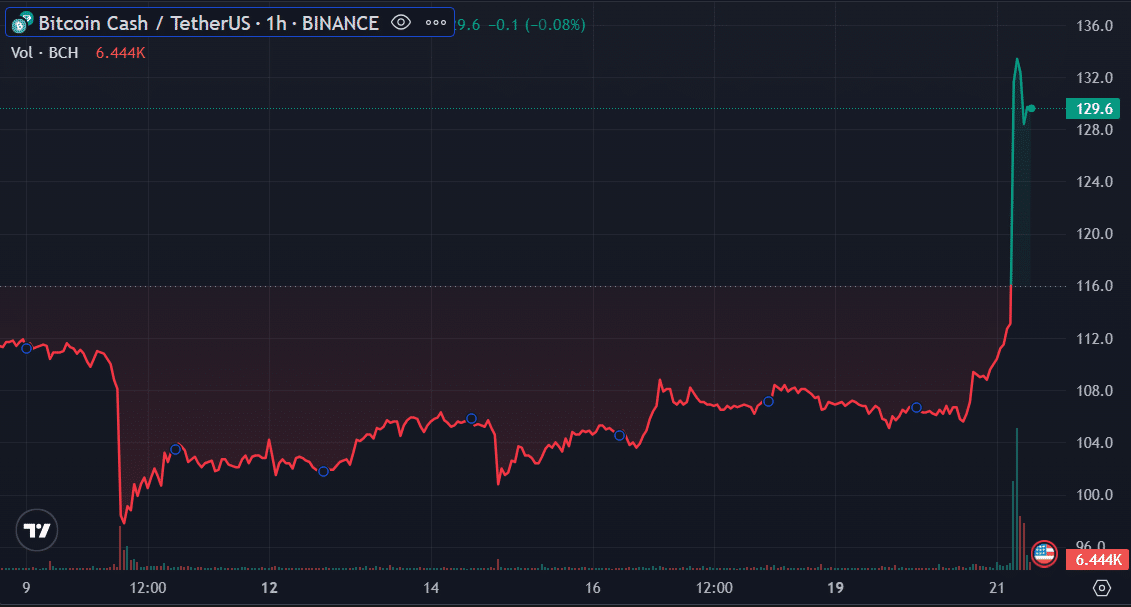 Despite a slight decline over the past hour, BCH retains a 24.38% gain in the last 24 hours, currently changing hands at $132.45. Conflux (CFX), flow (FLOW), stacks (STX) and optimism (OP) have also made their way into the top 5 gainers.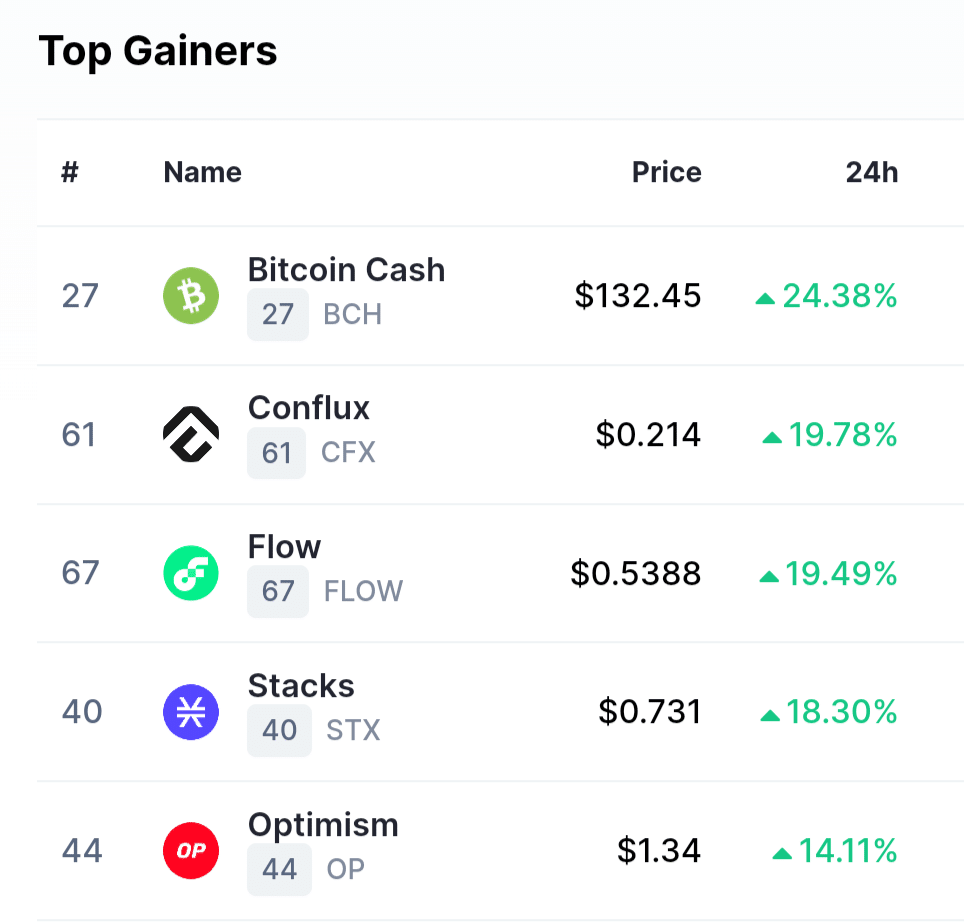 BlackRock ETF reignites confidence 
The recent market rally comes from renewed confidence in bitcoin and the crypto industry following reports of BlackRock's potential bitcoin ETF filing. The $9 trillion asset manager was reportedly on the verge of filing for its spot-based ETF with the SEC in partnership with Coinbase Custody.
Despite the SEC's history of BTC spot-based ETF rejections, the crypto community believes the BlackRock vehicle will receive favorable treatment. BlackRock's sustained interest in BTC has triggered a renewal of confidence in the long-term prospects of BTC and crypto assets.